We're excited so many of our members have expressed interest in our Lowe's discount card. Every week we learn of more and more realtors passing along discounts to their home buyers. If monthly sales volume tied to the promotion is any indication, this cooperative effort with Lowe's has been a SMASHING success. However, there has been some confusion about which Lowe's locations are participating so I thought it was a good idea to take a moment to provide some background on how the program started as well as where we hope to go with it in the future.
For the past 50 years I have been involved in the real estate industry. In addition to owning a midsize
real estate brokerage firm with around 90 agents, I have been an avid investor. I have counseled many
people as to the benefits of owning real estate to secure their future. This includes my own children!
I started a web business called AgentApprovedContractors.com as a tool that would help both
consumers and agents by having a source to use reliable contractors that real estate agents could feel
comfortable referring. My goal was and still is to take this program nationally! The site was also to be
used as a vehicle for clients to save money on items related to the home owner and for the agent's
business.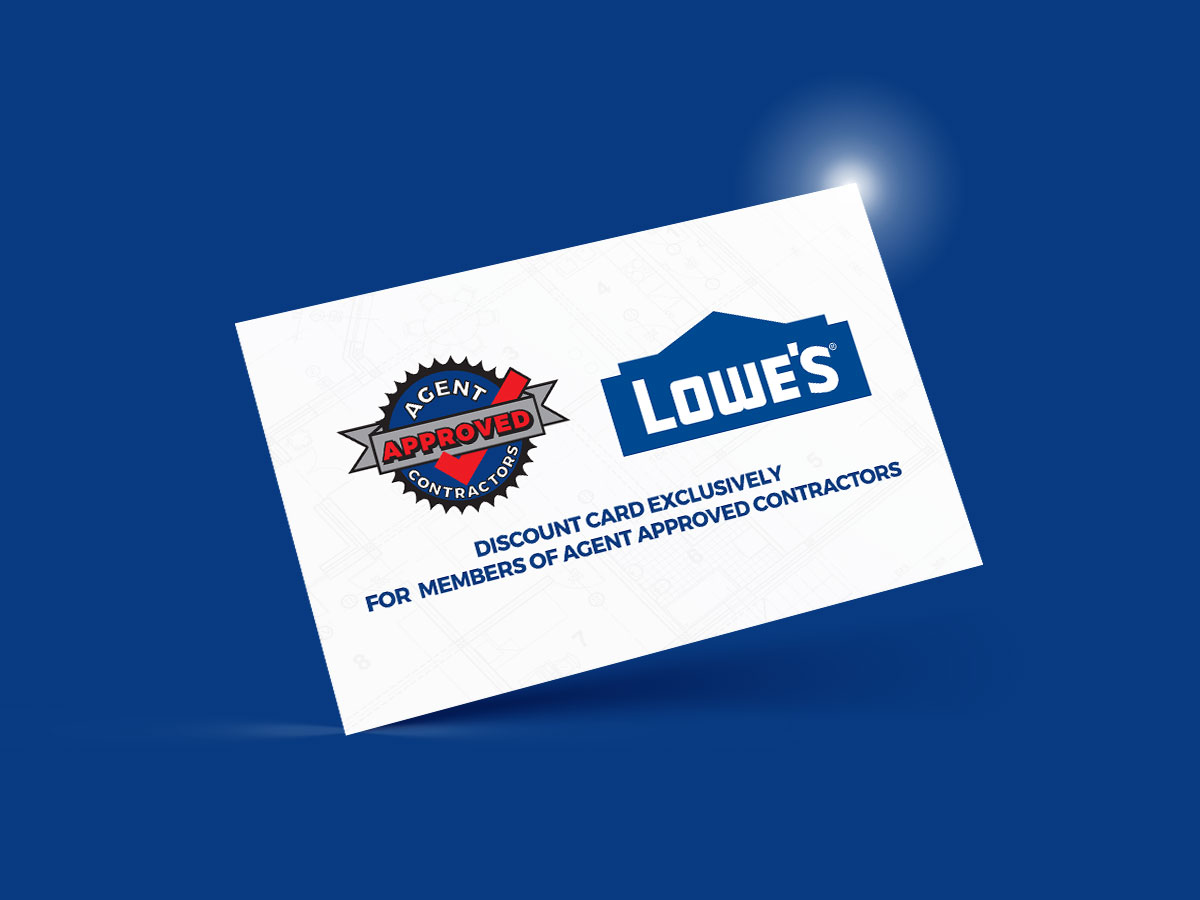 I have dealt with Lowe's, Home Depot and years ago Sears. Because of the volume we spend and have
spent over the years, we receive discounts. We selected Lowe's as our primary source. Over the time I
have either spent or directed certainly over a million dollars with Lowes. When I sell homes, I was
allowed to take my clients in to use my discount when they bought items for their new home purchase.
Every home buyer becomes a good target consumer for Lowes as they buy items such as appliances in
usually a short window of time.
I talked to the store manager at Lowe's a little over 8 months ago and asked if they would extend the
discounts to my agent's customers which he did. The first 30 days our agents, as best as we could tell,
we directed approximately $56,000 in appliances alone to the one store. I also brought the Lowe's store
a number of contractors that were dealing with the competition to his store and that are now Lowes
customers. This looked to me to be a big win for Lowe's.
Having started AgentApprovedContractors.com, which now has 2,800 Realtors in Central Virginia, it was
a natural step to try and bring the member agents' customers to Lowe's to be able to take advantage of
the discount. Lowe's would be a big winner, the agents would be serving their clients, the website would
be validated and I hoped to receive some compensation for my running and driving the business to
Lowes. So far, I have invested a fairly good amount into this program with no remuneration. I jokingly
say that "I AM THE BIGGEST AND BEST OUTSIDE SALES PERSON FOR LOWE'S" with no compensation. I
know that I will be able to increase the membership of AgentApprovedContractors.com to 25,000 to
100,000 once I had a blessing from Lowes or one of their competitors.
Here is my frustration. I have tried to arrange a meeting with someone in management at Lowe's. I
would like to make a trip to their home office to sit down and present my idea. If they can't see the
merit in it, I will move on to a competitor. I am convinced that this program will produce huge profits,
create brand loyalty, increase in store sales and add to their online presence which is an uphill battle
since they have to compete in that space with Amazon. I have tried to at least talk with someone in
Mooresville, NC which is their home office. I did communicate with the head of Pro Services nationally
and he passed me on I left a message with a couple of people in Mooresville and the area manager in
Central Virginia. I have received no return calls from the management of Lowes! One would think that a
meeting to see an idea that will costs Lowes nothing would be worthwhile?
As both a stock holder and customer of Lowes, I can not understand the silence that I have received! On
some occasions a single idea can result in substantial dividends! I have briefly touched with a
competitor and they are interested in talking. I guess no path in business is easy!